ENGINELink is a new NMEA 2000 wireless gateway that allows mobile phones and tablets to display engine data (utilising a NMEA 2000 interface) as well as providing a feed of AIS and GPS data to popular apps like Navionics, NavLink, iNavX, SavyNavy, AquaMaps and more.  Now boaters can have engine data plus their favourite charting app displays on their connected devices.
Engine information such as RPM, temperature, pressure and battery voltage are displayed as an attractive dashboard display through the web browser on the mobile device so there's no need for a custom app. iOS and Android devices can display app data and a web browser page side by side so you can have your favourite charting app open alongside engine instrument displays.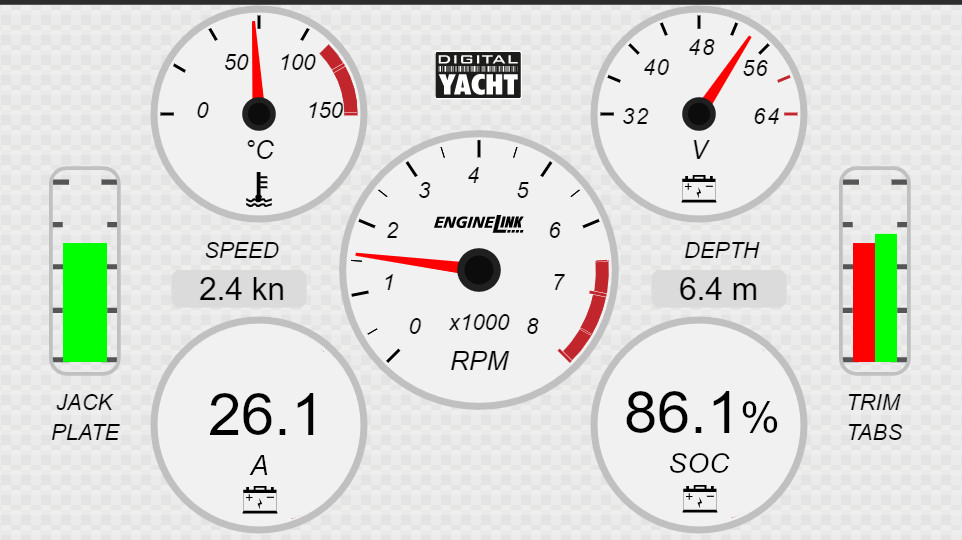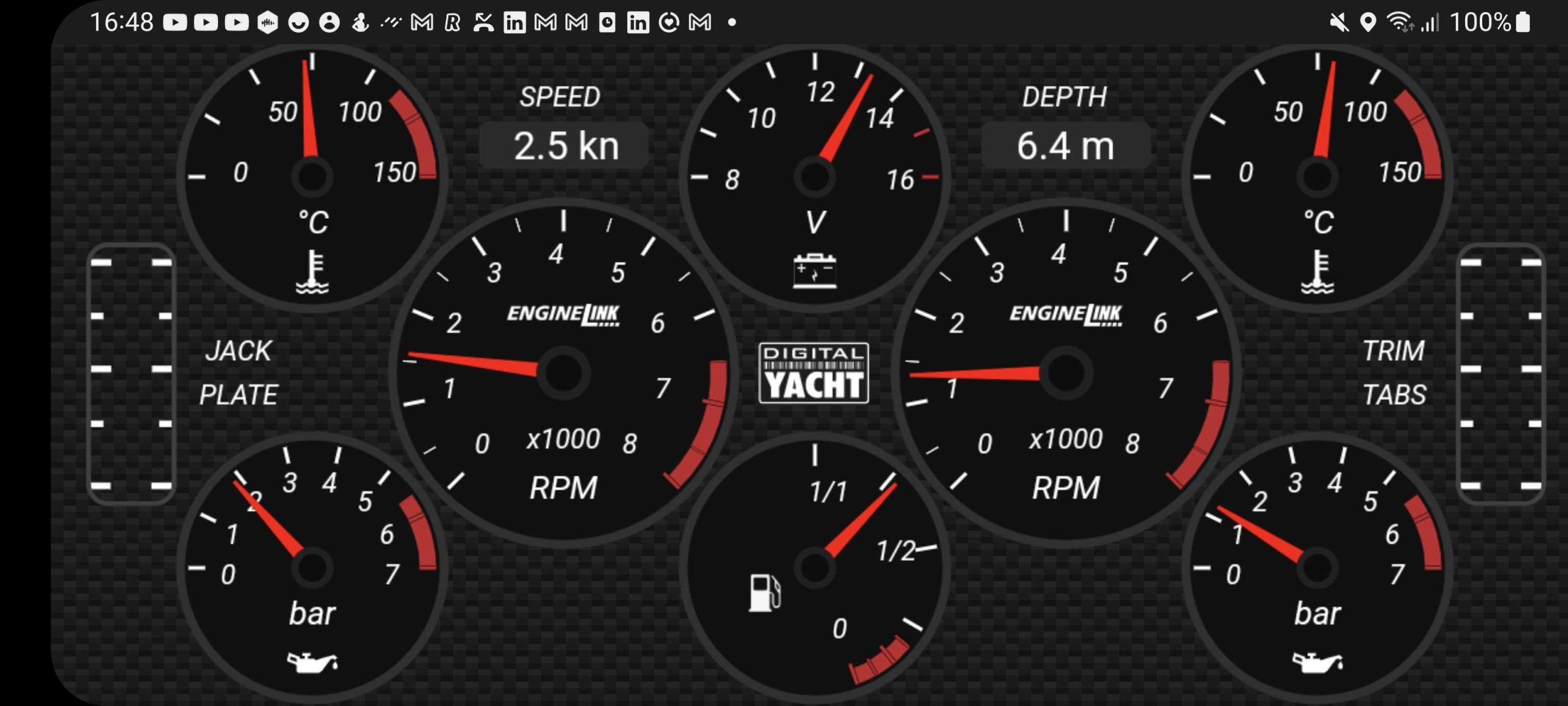 Setup and installation is easy.  Just "T" into the NMEA 2000 backbone and ENGINELink is self powered from the network.  It creates a secure, password protected local wifi network with up to 7 devices able to connect simultaneously.  UDP and TCP/IP protocols are supported too for compatibility with 3rd party apps.
Most modern outboards and engines have an NMEA 2000 interface or the ability to add as an accessory and ENGINELink has preset dashboards for popular manufacturers including Honda, Suzuki, Tohatsu, Mercury, Yamaha, Yanmar and Volvo. In addition, ENGINELink has a dashboard for the new generation of electric engines, that displays current consumption and battery capacity.
Either single or dual engine installations are currently supported and ENGINELink will work with any "NMEA 2000 ready" engine. If the vessel is fitted with NMEA 2000 compatible Trim Tabs or Jack Plates, then the status of these performance critical accessories are also displayed on the dashboard.
You can configure the ENGINELink through its own simple web interface, just open your web browser, enter the ENGINELink's IP address and you will access the attractive dash to display your engine data. So no complicated programming software or app is required.
By default, EngineLink is configured for a single internal combustion engine, but can be configured for dual engine operation and/or compatible electric engines. In addition, the Gauges page is fully editable, allowing you to change, hide or add gauges, to suit the engine data on your NMEA 2000 network.
You can change network name & password or even merge the WiFi to an existing WiFi network on board and also view the received NMEA data in the web browser, for easy fault finding of issues.
Wireless gateway for NMEA 2000 networks with integrated engine instrument displays
Compatible with engines/outboards with NMEA 2000 capability
Secure, password protected wifi network or connect to existing boat wifi network
Displays for popular parameters like RPM, battery voltage, temperature, pressure, fuel,etc
Dedicated electric engine display page
Support for single or dual engines
Simply connect to backbone and connect iPad, smart phone, tablet, PC or MAC via wifi – any device with a browser can display the instrument dash!
Streams real time AIS and GPS data to other apps such as Navionics too for precision boat GPS data and AIS overlay
Displays data from NMEA 2000 compatible Trim Tabs and Jack Plates
Easily updateable as engines offer more parameters
Logging capability for diagnostics